2022 Festival Award Winners
Fashion
Judge: Maxine Johnson

First Time Youth Entrant Award
Atlantis Princess by Natassia Hornby
Revamped
1st:  Graduation Upgrade modelled by Jo Williams and created by Lacey Sawtell
2nd: Lace Bride designed and modelled by Chloe Hawks
Highly Commended:  My Body My Choice modelled by Meggan Gordon amd created by Meggan Gordon, Jamie Waterworth and Emma Kottmann.
A Touch of Class
1st: Prom Night modelled by Nataya Gnech and created by Diane Weber
2nd: Fashion on the Field designed and modelled by Maddison Hawks
Highly Commended: Aurora  designed and modelled by Klancie Sultman
Wearable Art
1st: CAP-tivated modelled by Cindy Cowell created by Glen Smith
2nd: Bird of Paradise designed and modelled by Kiarra Kelley
Highly Commended: Flight of Fantasy modelled by Heidi Hawks created by Lacey Sawtell
Writing
Judge: Nigel Munro-Wallis

(Judge's comments in brackets)
Youth High School
1st: Panic by Zoe Meyer (Excellent storytelling and use of descriptive language)
2nd: Following the Positive by Chloe Hawksy (Clever insight and sensitivity into such a personal and emotional topic. )
Youth Primary School
1st: Drought by Lucy Wimmer   (A wonderful job of creating a rather desolate, sad place.)
2nd: The Way to Get out of Math by Matisse Zorzetto   (Wonderfully creative – very clever and interesting descriptions and setting.)
Highly Commended:  A Bees Life by Keira Baills   (Lots of great description and action.)
Highly Commended:  Life with Doxies by Montesa Smith  (Great description and relationships built between the characters.)
Special Mention:  Tarome Bushfire by Oliver Prickett  (The use of incorporated rhyme was very interesting and effective to covey emotion.)
Special Mention:  Drought by Elizabeth Hartmann  (The way the author used rhymes was very emotive and painted a sad picture of the drought.)
Paint: Oil, watercolour or acrylic
1st: Darling Drive by Christine Parry
Bright morning light streaming on to country path in Witheren, Scenic Rim.
2nd:  Kingfisher by Chris O'Hare
Kingfisher amongst the flowers.
Highly Commended:  
Cow Buddies by Kristen Connell
Inspired by cows in the countryside of Purga and a love of these beautiful animals.
My Mum says I'm Handsome by Timothy Wood
Does a self-portrait have to look like me if nobody knows what I look like? I promise it does but I've been known to lie.
Mixed Media: More than one medium or material used
1st:   Ornithology by Glen Smith
Inspired by his love of flora and fauna, this artwork depicts the bird life that inhabits his own backyard.
2nd: Rhodes Grass at Templin by Nigel Gillespie
Oil on beeswax on Rag Paper.  Inspiration – Rhode Grass in a Paddock at Templin.

Highly commended: Busted by Ann Window
Outhouse busting.
Works on Paper: Pastels, pencil and ink
1st:  Emu by Ann Window
Pan pastel on paper.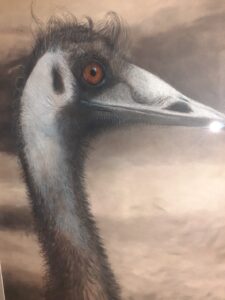 2nd: A Charm of Finches by Maureen See.
The collective noun for a froup of finches is a charm of finches and these little birds are truly charming.
Highly Commended:
Hereford Bull by Ann Window
Pencil on colourfix.
Photography
1st: Making a Wish by Elizabeth Wieland
Beautiful galah that landed in our tree in the garden taking the time to groom itself.

2nd: Tea Trees in the Mist by Margaret Heath
3-panel photograph printed on canvas, brushed with clear acrylic. Soft misty light lends peaceful stillness unified by lines of bridge and colours of tea-trees.

Highly Commended: Flight Above by Mandy Stenton
The corellas were very interested when taking a photo of Moogerah Dam and Mount Greville.
3D: Sculpture, pottery, jewellery, felting and other art forms not attached to a board, canvas or paper
1st:  Mother and Daughter by Patrick Moore
A sculpture created from natural elements collected from his families country. It symbolises and celebrates the special bond of mother and daughter.
2nd: Dry Clean Only by Toni McIsaac
Toni acquired this old rusty stand and wondered if he could make a dress for it. He loves working with wood and finds that rusty bits and pieces fit well with wood and varnish.
Highly Commended: Ernie by Priscilla Lawrence
Painted, cut & reassembled the sky fabrics, cut out & collaged fabric gumleaves for feathers, painted the head & neck, then added intensive freehand machine-stitching.
First Timers: For adults only who have never entered this or any competition before. Any media.
Award: Woomera Skies by Colleen Butler
Colleen was hoping to convey the vastness and beauty of Woomera (SA) sky in this artwork
Award:  Goat by Barbara Graham.
Barbara used watercolour on scratchboard paper for her piece titled Goat.
Youth (Primary School): Any media of choice
1st:    Tea and Bikkies by James Davies
Created this ceramic earthenware pinch put cup and slab plate at the Clay Home studio in Boonah.
2nd:  Disappearing by Ella Maguire
This small artwork symbolises the decreasing habitats of our endangered native wildlife. If nothing is done they will disappear.
Highly commended: Flowers for Mum by Matisse Zorzetto
Highly commended: Paddock Cow by Blake Winks
Youth (High School): Any media of choice
1st:  15 cents by Naomi Hayton
The falacy of 'saving the environment' is highlighted by the dichotomy of fast fashion, paired with 15c re-usable plastic bags.  This outfit is made of 15c plastic bags on an op-shopped jacket.
2nd:  In the Course of Time by Jade Burns
People's Choice
What's Behind Window Number 4
Photograph by Grant Quinn